Honor God by Serving Others
"Share with God's people who are in need, practice hospitality." Romans 12:13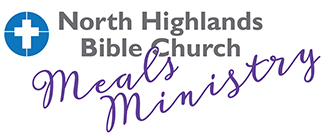 What is a Meals Ministry?
Through a team of volunteers, we provide meals to our church family in times of need.
How Does it Work?
The Meals Ministry Coordinator is made aware of the need through a direct request for help. Volunteers are then contacted and asked to provide a meal (home cooked or purchased) and deliver it to the recipient's home. Not a cook? Gift cards welcome!
Who Do We Serve?
Our NHBC family in times of need…
After the birth of a baby
After surgery or hospitalization
During times of crisis
How Can I Help?
Sign up to join our team by contacting our Meals Coordinator. Your contact info will be put into a
group email list. When a need is brought to the church's attention, we will send out an email calendar.
Just sign up to bring a meal on a day that works best for you.
Meal Guidelines:
Please deliver a complete meal to the recipient's home in disposable containers.
The meal can be a gift card, store bought, homemade, frozen or something picked up from a local restaurant!
We will attempt to accommodate food allergies and preferences. All info will be provided on the sign-up calendar. Please consider these special requests when preparing meals.
In Need?
If you or someone you know within the NHBC family are in need of this ministry please complete a Meal Request Form
---